Are you getting ready to go grocery shopping with your little bundle of joy? Or maybe you're planning to take your newborn outdoors to get some fresh air? Either way, a stroller is an essential item that can supplement your family activities together and make your life easier with the baby, especially when you're on the go.
However, with different types of strollers out there with varying features, functionalities, and price ranges, it can be overwhelming to pick a stroller that best suits your needs. To help you work things out, we researched dozens of the best baby strollers on the market and came up with a list.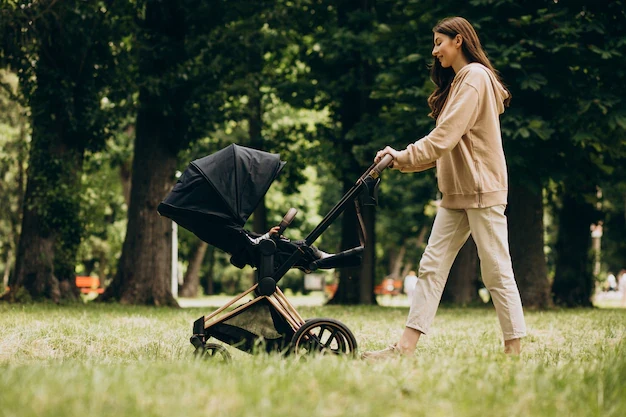 The Best Overall Stroller
UPPABaby's Vista V2 Stroller is designed to support multiple configurations and give you the luxury to transport up to three children at once. Newborns can sit in the bassinet, a ten-month-old gets the toddler seat, and a child weighing up to 50 pounds can stand on the PiggyBack ride board attached to the stroller's rear.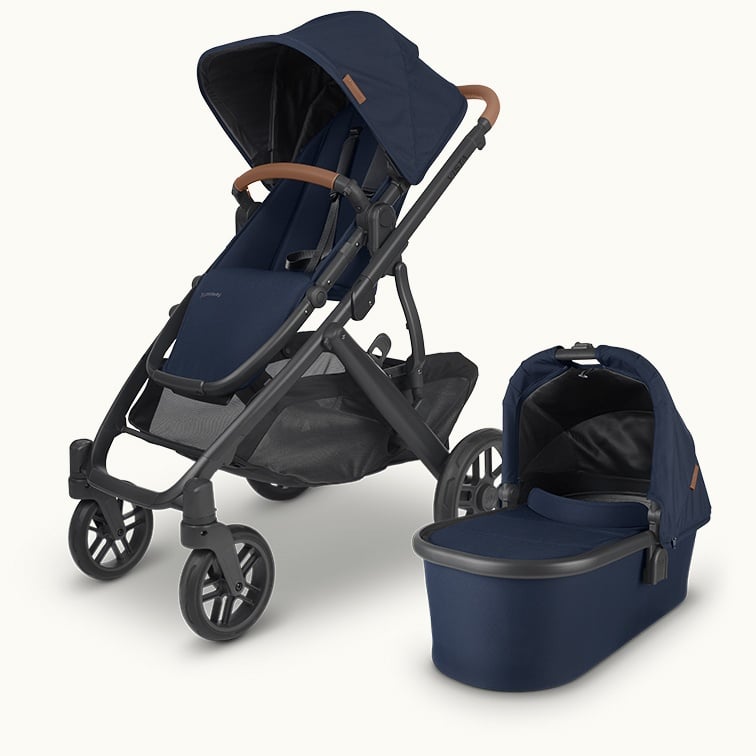 What's more, this baby carriage includes an extendable zip-out canopy that gives a layer of protection from the sun and contains mesh panels to facilitate continuous airflow. Furthermore, the stroller offers a spacious basket that provides plenty of room to stash all must-have essentials, including wipes, diapers, toys, or any extra clothes.
​​No matter how much gear you bring, the Stroller's basket can hold up to 30 pounds while remaining solidly on the ground. It's incredibly durable and features a generous weight capacity of 50 pounds to accommodate your little ones. Unfortunately, the stroller has a starting price of $1,000, which may be more than you want to spend, especially if you are on a budget.
Best Lightweight Stroller
Weighing just under 15 pounds, UPPAbaby's MINU Stroller is one of the lightest strollers available on the market. In addition, the stroller features a one-hand, one-step fold. This is very handy when you want to pop it into your vehicle or the overhead compartment on a plane with one hand while holding your baby in the other.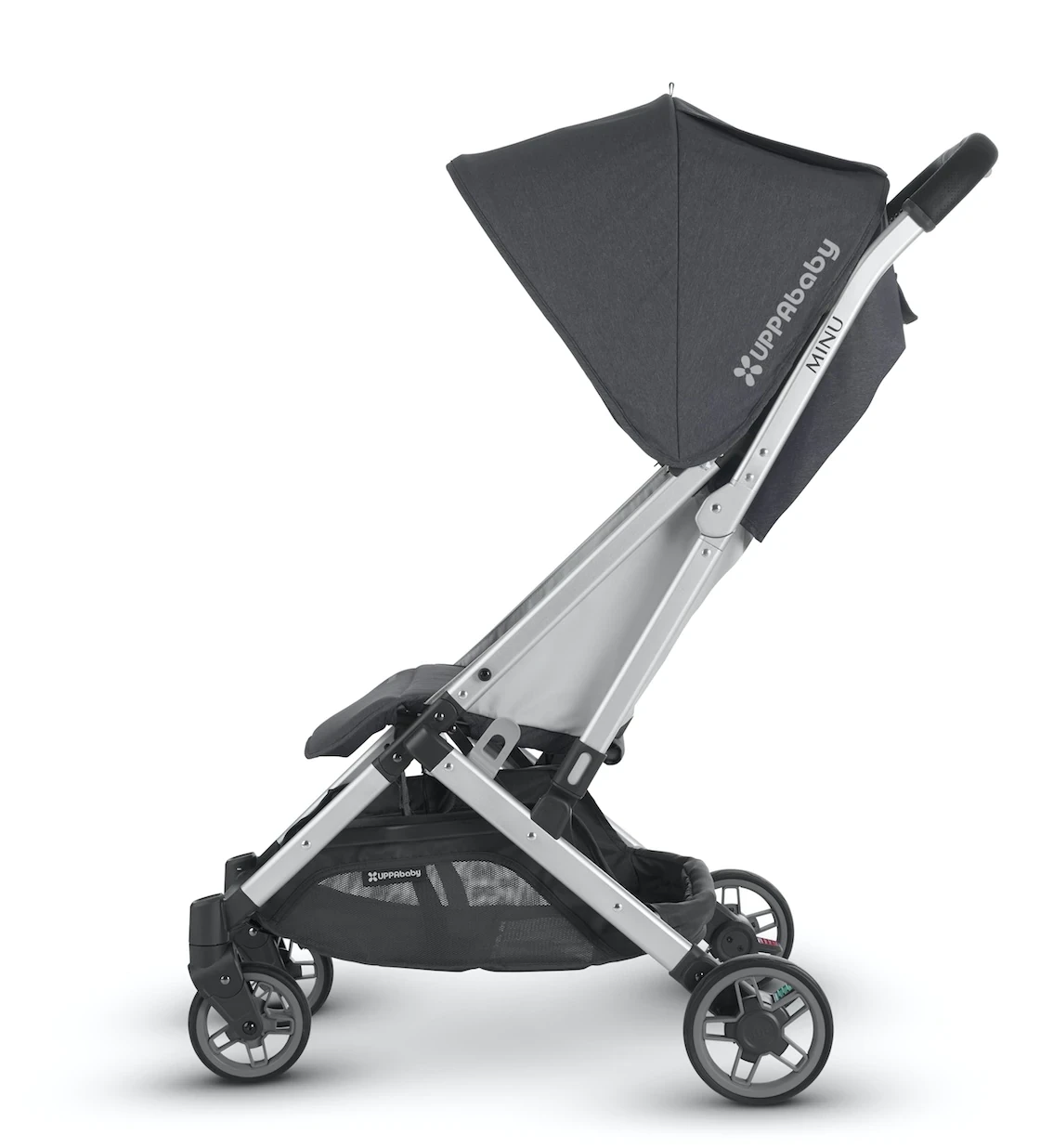 The MINU Stroller consists of a multi-function recline that can be adjusted according to your baby's needs. What's more, the stroller comes with an easy-access basket that allows you to keep your everyday essentials within a weight limit of 20 pounds.
Being suitable for children anywhere from three months to 50 pounds, the MINU Stroller is super compact and lightweight, making it a great choice for city dwellers who are always on the go.
Best Stroller for Newborns
Doona's Car Seat Stroller is marketed as the world's first infant car seat and stroller in one, allowing you to move from car seat to stroller in a matter of seconds. This makes it highly suitable for parents who are always on the go and find themselves using their personal vehicles, jumping in and out of cabs, or traveling on the plane very frequently.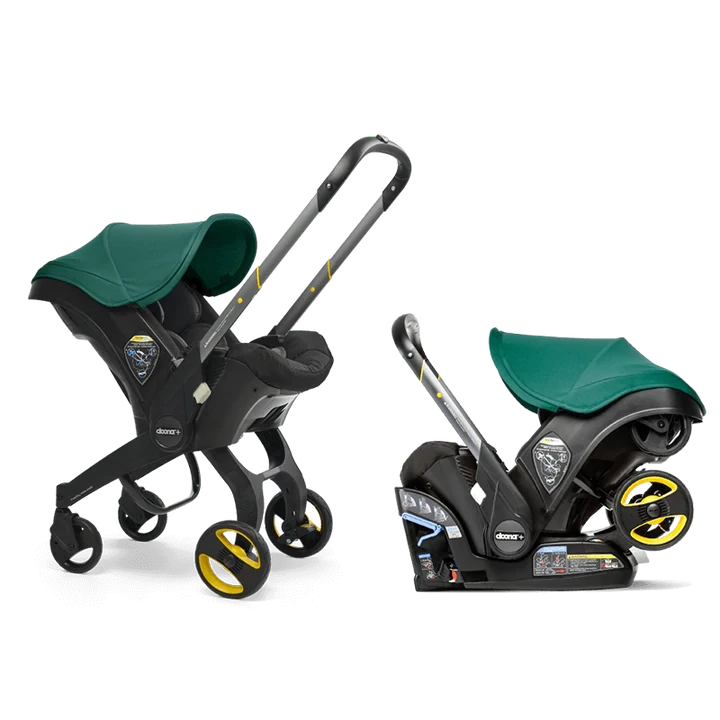 The Doona car seat stroller has a double-wall structure made of shock-absorbing plastic, expanded polystyrene, and foam, all of which provide superior side impact protection for the head and torso.
In addition, this car seat stroller has been rigorously tested to ensure that it exceeds all necessary safety regulations while providing the highest level of protection for your child.
Best Stroller for Toddlers
Thule's Spring Stroller prides itself on being 30% smaller than any of the other three-wheeled strollers available on the market. With an impressive child weight capacity of up to 64 pounds, the stroller is ideal for growing toddlers. But, that's not all–the Spring Stroller comes with a one-handed fold, giving you the luxury to fold the stroller with one hand whilst carrying a child in another.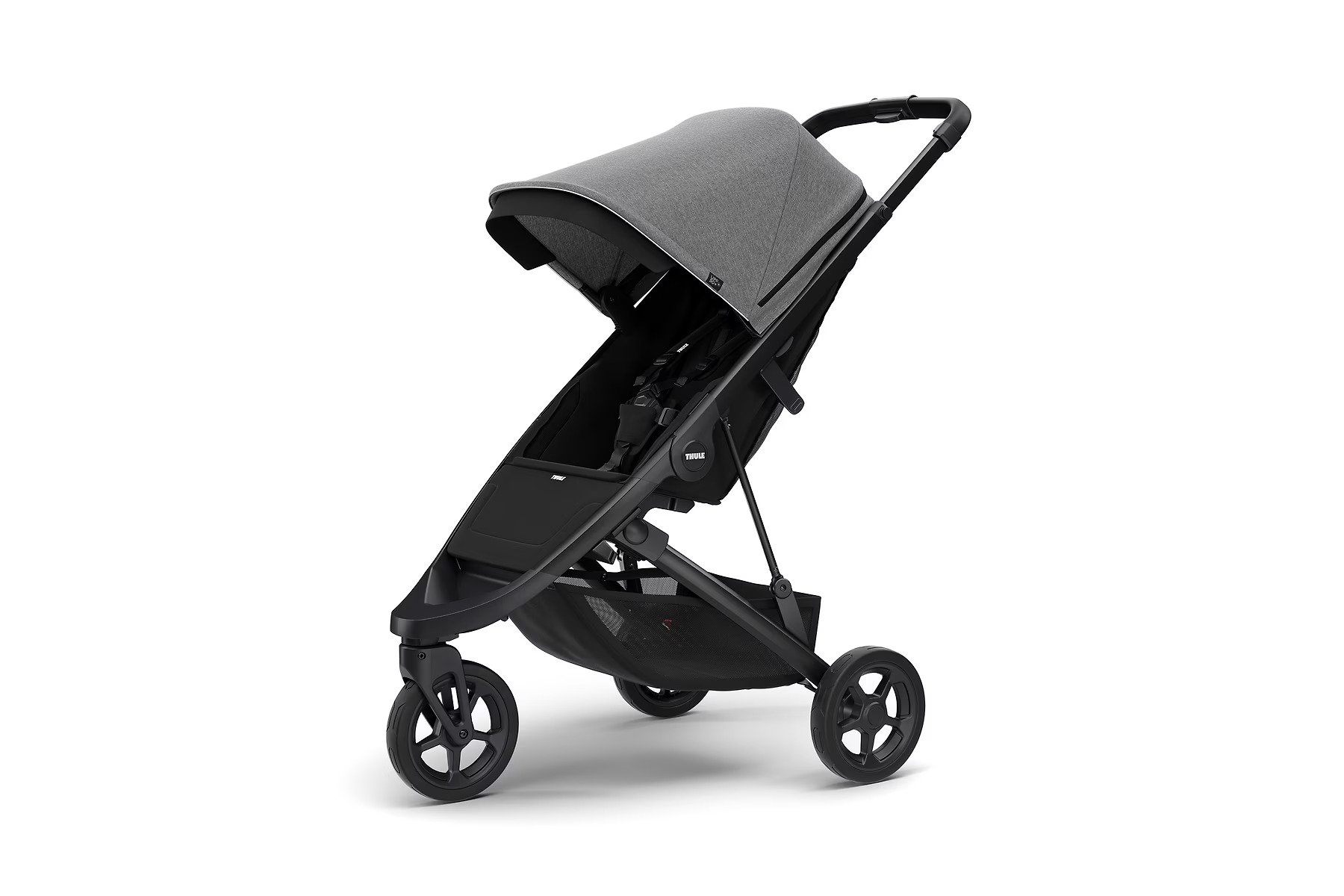 The Spring Stroller comes with swiveling front wheels that can be locked into a fixed position. This makes it easy to maneuver, even one-handed, down a crowded street. Even better; it offers a sliding handlebar that can be adjusted to suit your height–so no more hunching over when you're taking your baby out for a stroll.
What sets this stroller apart is that it meets Disney Theme Park size requirements making it the perfect travel stroller for any family vacation. Starting at around $400, this stroller begins life in a compact position but expands to fit your growing toddler.
Best Value For Money Stroller
Summer Infant's 3Dlite Convenience Stroller scores points for being lightweight and extremely easy to carry on the go. Weighing just as little as 13 pounds, the 3Dlite Convenience Stroller is your ideal companion that allows you to be on the go or stow and go with ease.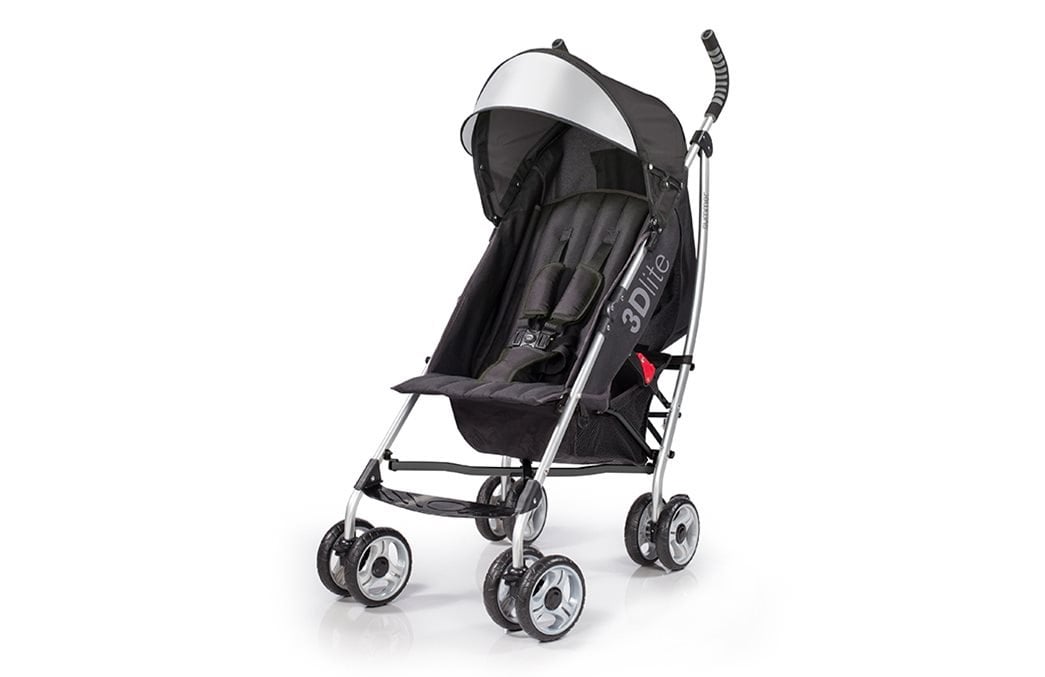 The structure comprises an all-aluminum frame which makes it air-tight and compact. In addition to its durability, the 3Dlite Convenience Stroller's adjustable canopy, coupled with its pop-out sun visor, shields your baby from harmful sun rays.
The 3Dlite Convenience Stroller comes loaded with the goodness of a five-point safety harness which can be adjusted to three height positions. This ensures that your little one enjoys a comfortable ride while staying safe at all times. The best part? It starts at only $60 and could be an excellent option for parents who don't want to break the bank.
Best Full-Size Stroller
Every parent's dream—the Mockingbird Single-to-Double Stroller goes from single to double in seconds. With a light frame, durable rubber wheels, and a sturdy build, this stroller is designed for smooth city journeys.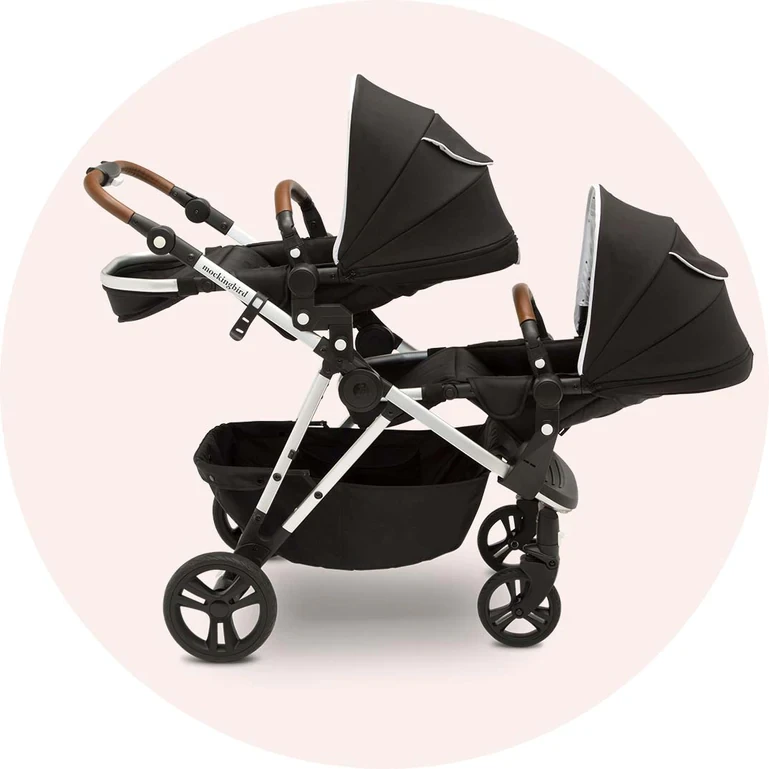 Plus, this unique product comes with the added functionality of adding a second rider, with each seat supporting a child weighing up to 45 pounds. The spill-resistant extendable UPF 50+ all-weather canopy facilitates smooth airflow and includes a peekaboo window that allows you to check on your baby every now and then.
Even better, Mockingbird has designed the wheels in such a way that they don't pop or go flat. But, that's not all, the front-locking wheels adapt accordingly to the terrain, providing a comfortable ride for your baby.
Best Stroller for Sleeping
The MIXX Stroller by Nuna is specifically designed to give a comfortable environment for your baby to sleep. Its sleeper recline can be laid flat completely for quick naps on the go. In fact, the stroller comes with a five-position recline that can be adjusted easily to suit your little one's comfort.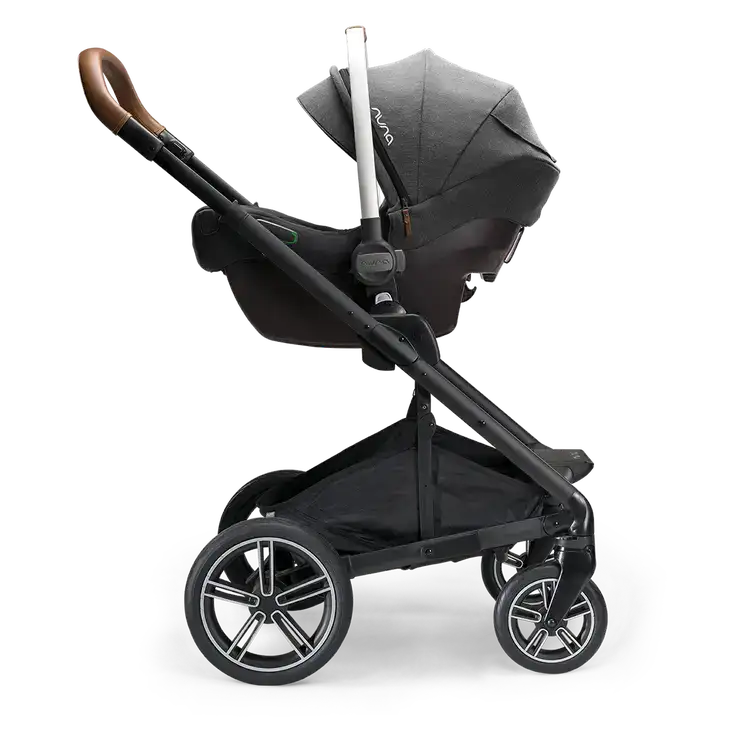 The MIXX Stroller takes pride in its tough, rubber foam-filled tires that absorb the impact from bumps and bruises on the road.
Marketed as the Rear-wheel Free Flex and Front-wheel Progressive suspension technology, this ensures that your baby's nap remains uninterrupted at all times.
Best Smart Stroller
The e-Prime Rose Gold Electric Stroller by Cybex takes advantage of the latest technology to provide new levels of child safety and comfort in a stroller. The baby product is revolutionary in terms of intelligence, convenience, and innovation and solves real parent and baby needs.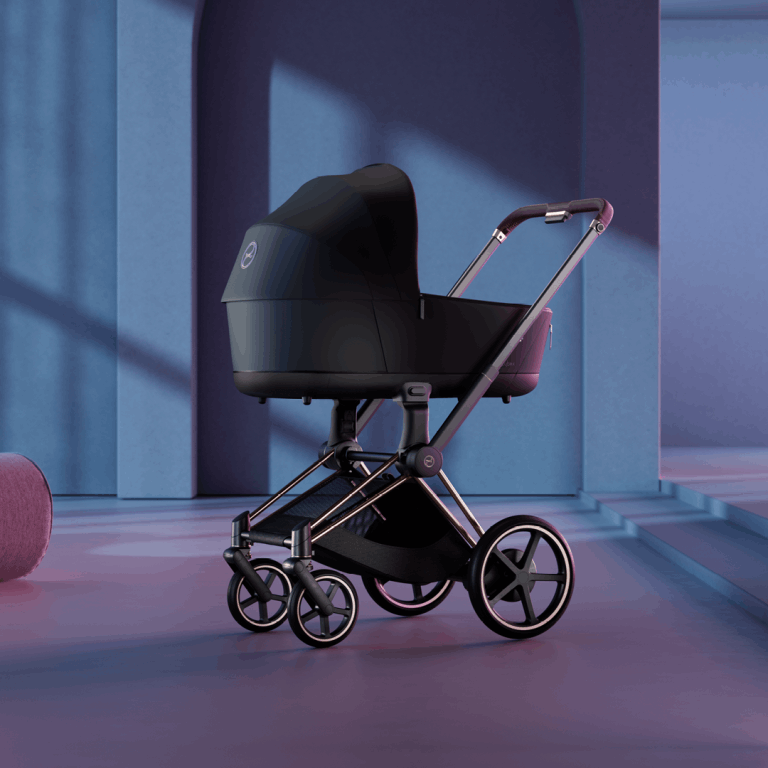 In-built sensors in the handlebar constantly monitor the vehicle's motion and adapt accordingly, resulting in a smooth, easy ride regardless of the terrain. A single charge lasts for approximately six hours, and the auto-powered stroller can drive at speeds up to 3.7 miles per hour.
Moreover, if you often find yourself in a situation where one of your children wants to be held in your arm while the other wants to be rocked in a cradle—e-Prime has a unique solution for your problem! Simply pair the stroller with the e-Priam app to activate the Rocking feature and sit back, relax and watch as the stroller soothes your child without you having to lift a finger.
Best Travel Stroller
The Yoyo2 Stroller by Babyzen weighs as little as 17 pounds and takes the stress out of travel and city life. The French-designed lightweight stroller folds and unfolds in one hand, can be worn over the shoulder, tucks in anywhere, and can even be used as carry-on baggage.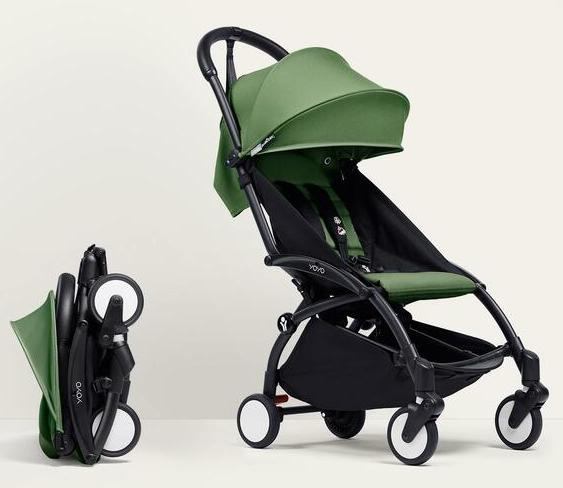 Despite its ultra-lightweight, the stroller shines in strength thanks to its anodized aluminum alloy frame, a fiberglass frame, and stainless steel connectors.
The integration of suspensions on each wheel induces a cushioning effect that allows you to navigate different surfaces. So even if you travel across bumpy cobblestone roads, you can be assured that your child will have a comfortable ride.
Best Convertible Stroller
Chicco's Bravio Trio Travel System offers the Bravo Quick-Fold Stroller and the KeyFit 30 Infant Car Seat, both of which click together without an adapter. Not only does this provide you with a whole travel system in a single purchase, but it is also one of the most affordable strollers out there for the value it offers.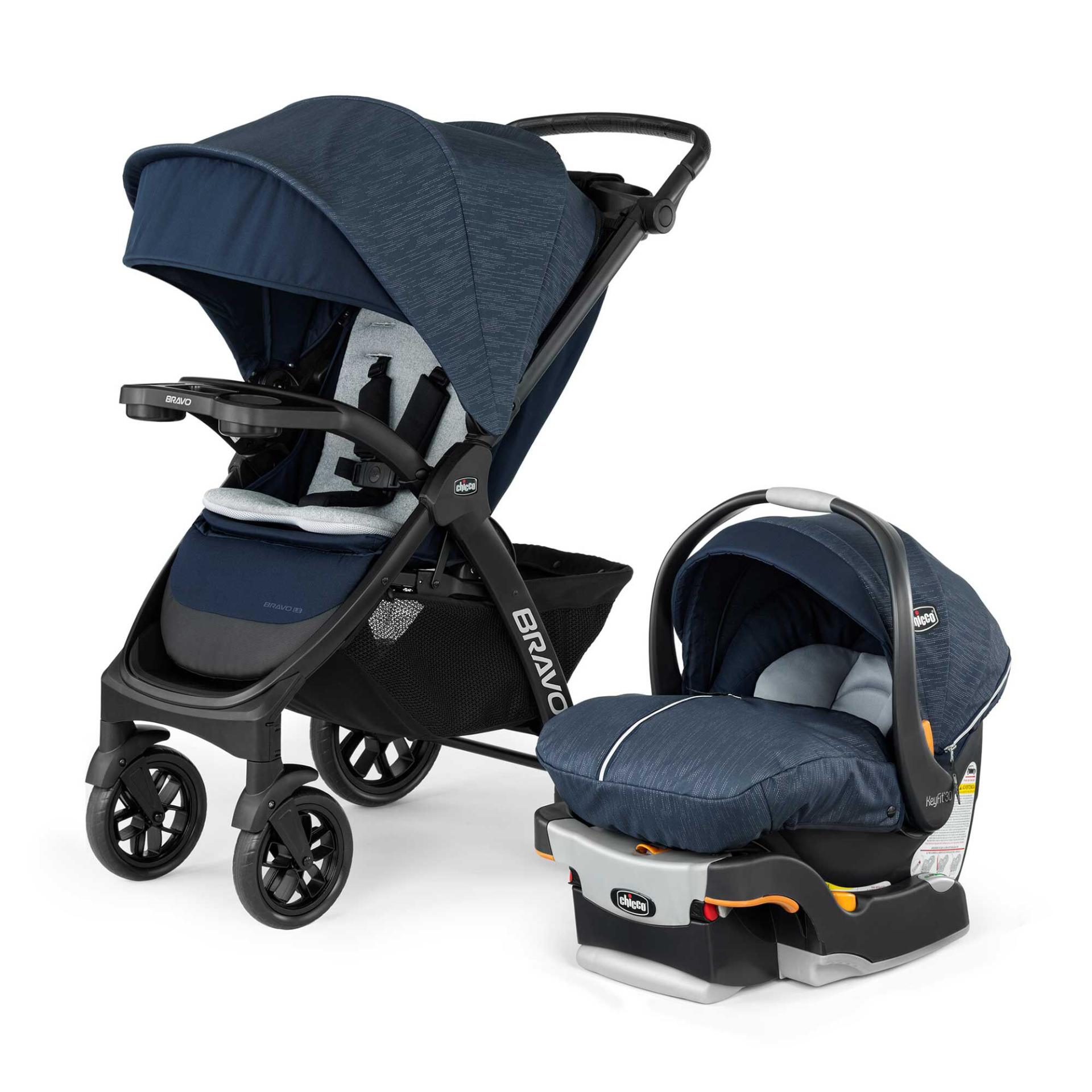 Designed with a height-adjustable handle, cup holders, and a one-hand smart fold that lets you fold the stroller in seconds, it will become one of your most valued possessions. In addition, the stroller can support weights up to 50 pounds, while the car seat can hold weights ranging from four to 30 pounds.
However, it is essential to note that this baby stroller reportedly struggles when maneuvered on rough surfaces. So, if you need to push your stroller along rugged terrain, you may want to consider an alternative.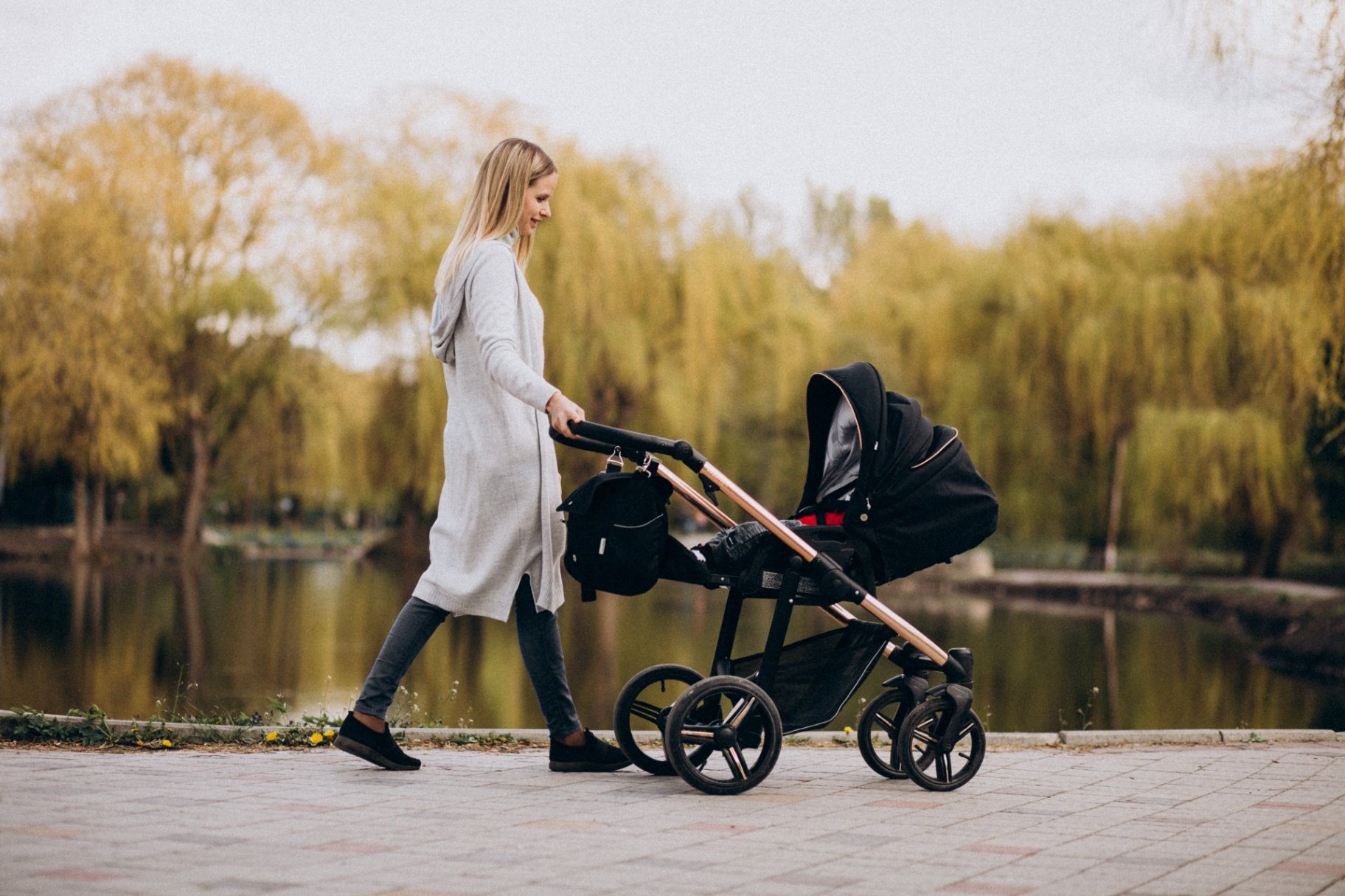 Conclusion
There is a plethora of factors to consider when purchasing a stroller. A single stroller cannot satisfy the needs of everyone. The best thing you can do is make a list of the features you desire.
Now that you have reviewed the factors to consider, you can narrow your options from the above-mentioned product recommendations and choose the best stroller for your baby.