Making your own baby food is one of the best things you can do for your little one's health and nutrition. Not only does homemade baby food have much fewer preservatives, but it's also easy to prepare and much cheaper than store-bought alternatives.
In this article, you'll find ten easy baby food recipes designed to be homemade, nutritious, and gentle on sensitive tummies. These recipes include a wide variety of fruits, veggies, and tolerated grains so that your little gourmet can have the most varied diet possible. After all, the more foods you introduce (without fuss) during this phase, the better you're setting them up for a healthy relationship with food later in life.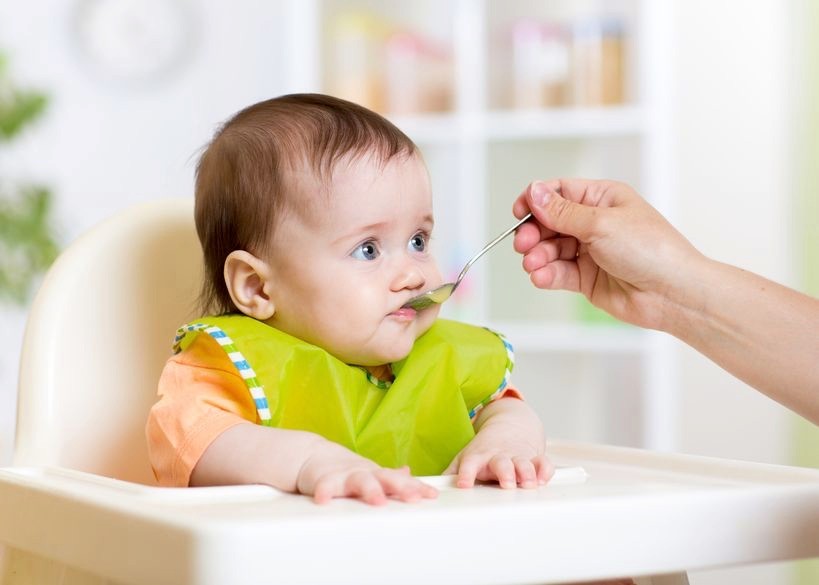 Avocado Puree
Avocado puree is a delicious, easy-to-digest first food for your baby. The ripe and creamy avocado fruit has a smooth texture that blends easily into a puree. Packed with vitamin A, E, and folic acid, this scoopable treat is enriched with monounsaturated fats that are essential to your baby's brain and physical development.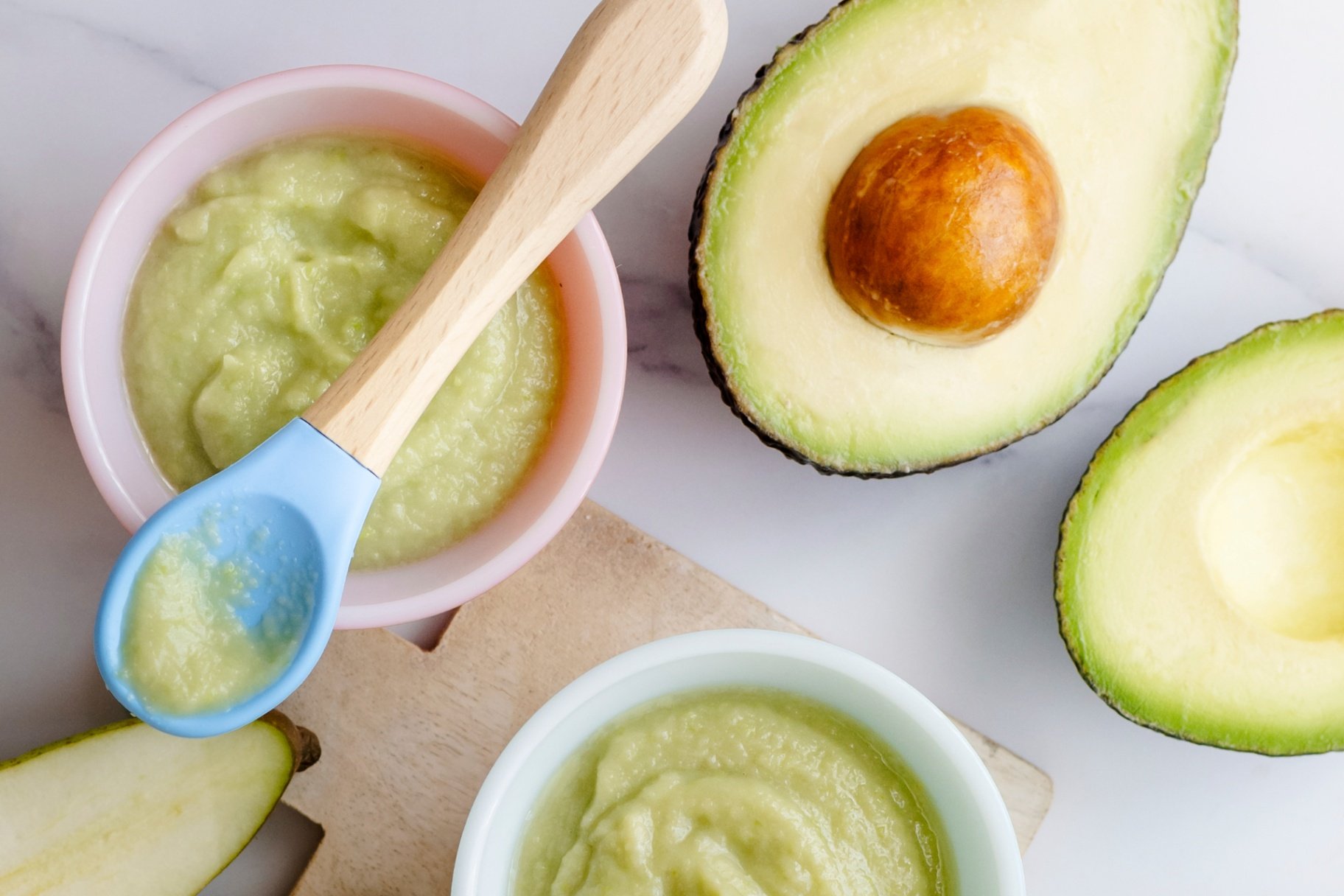 Making avocado puree for your little one is super easy with these simple steps. Choose a ripe avocado and scoop the soft flesh into a blender or a food processor. Add some breast milk, formula, or water to get the desired consistency, and blend until smooth!
If you plan on saving some for later, stir one tablespoon of fresh lemon juice into the mashed avocado and spoon it into an ice cube tray. Wrap in a single layer with parchment paper and freeze. Once frozen, transfer the cubes to a freezer-safe container or storage bag, and freeze for up to 3 months.
Banana Puree
Ripe bananas are one of the most widely eaten fruits globally, and they are enriched with nutrients, fiber, and healthy carbohydrates. And with just one ingredient, pureeing your own bananas at home couldn't be simpler.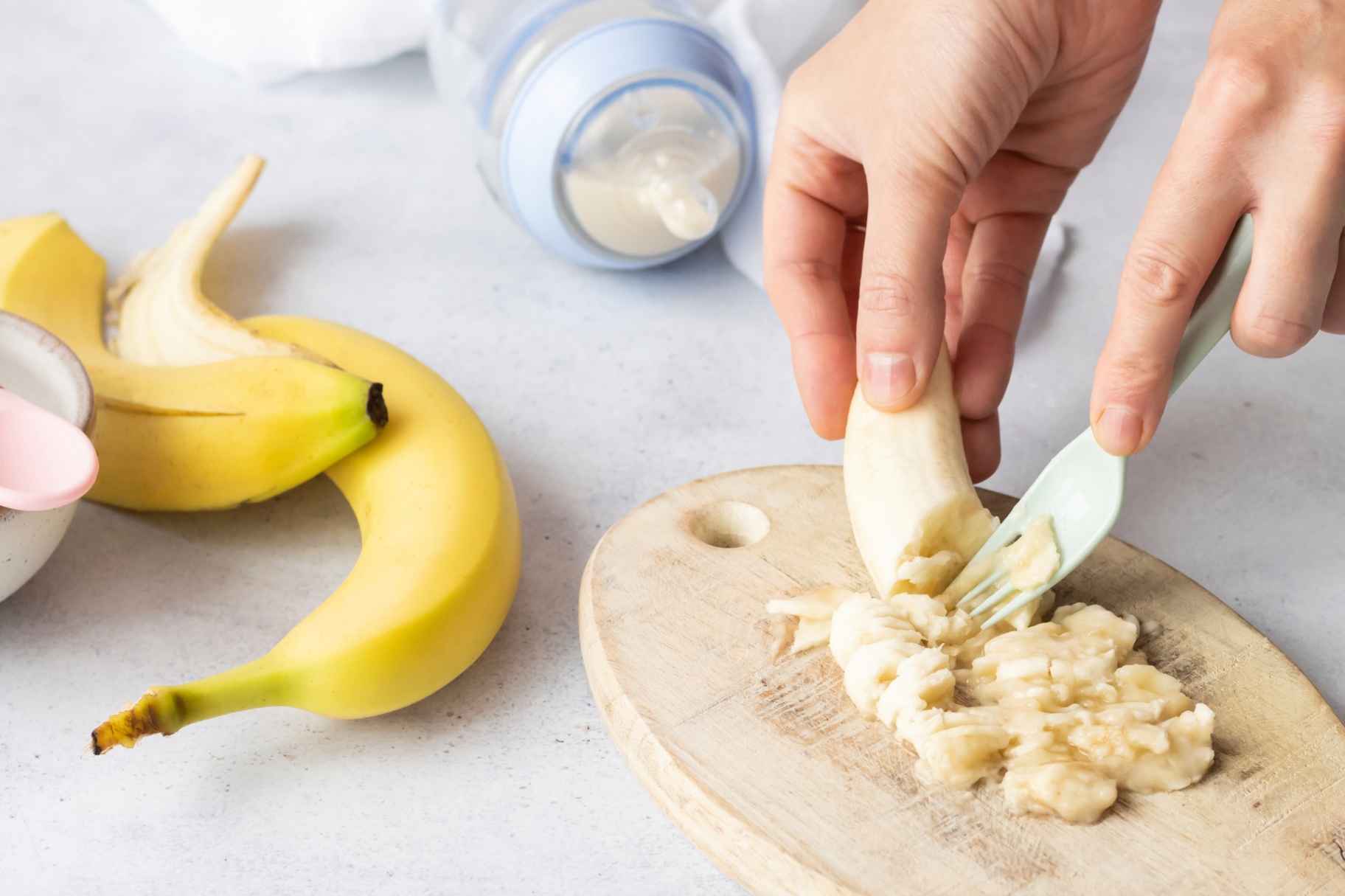 No cooking required—just grab a ripe banana and gently mash it with a potato masher or fork until smooth. Alternatively, you can also pulverize it in your blender or food processor for a quick baby food puree. Then, serve it straight from the spoon, in a bottle with breast milk, or simply freeze it into ice cube trays.
This super simple recipe is a great place to start when introducing solids because your baby will get the nutrients in bananas without the discomfort of digesting the starch.
Baby Brown Rice Cereal
Rice cereal has been used for decades as a starter food for babies—and for a good reason. Rice is the least allergenic of the grains while still being an easily digested carbohydrate. That's pretty important to new, developing tummies!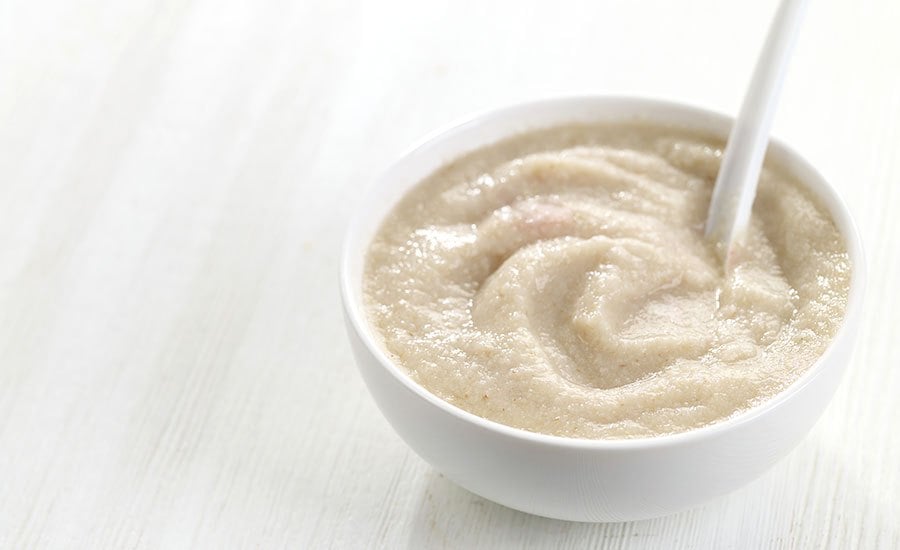 What's more, rice cereal is loaded with iron, carbohydrates, and other nutrients, which provide growing babies with much-needed energy and help them reach key developmental milestones. And because it's so versatile, it can easily become a part of many favorite recipes once your baby starts eating solid foods.
You can easily make your own rice cereal at home by adding 1/2 cup of uncooked brown rice to a food processor and milling it into a fine powder. Next, add four cups of water to a pot, bringing it to a boil and stirring in the milled brown rice. Then simmer it over low heat for 20 minutes. Now, pour breast milk or water if you'd prefer the consistency to be thinner.
Baked Sweet Potato Puree
Sweet potatoes are one of the most nutritious vegetables and a highly favored first food for babies. Loaded with the goodness of vitamins (A and C), antioxidants, and lots of fiber, this starchy root vegetable is naturally sweet, which makes it easily digestible for babies. Mashed or puréed, your little one may love them plain or enjoy them with complementary pear puree.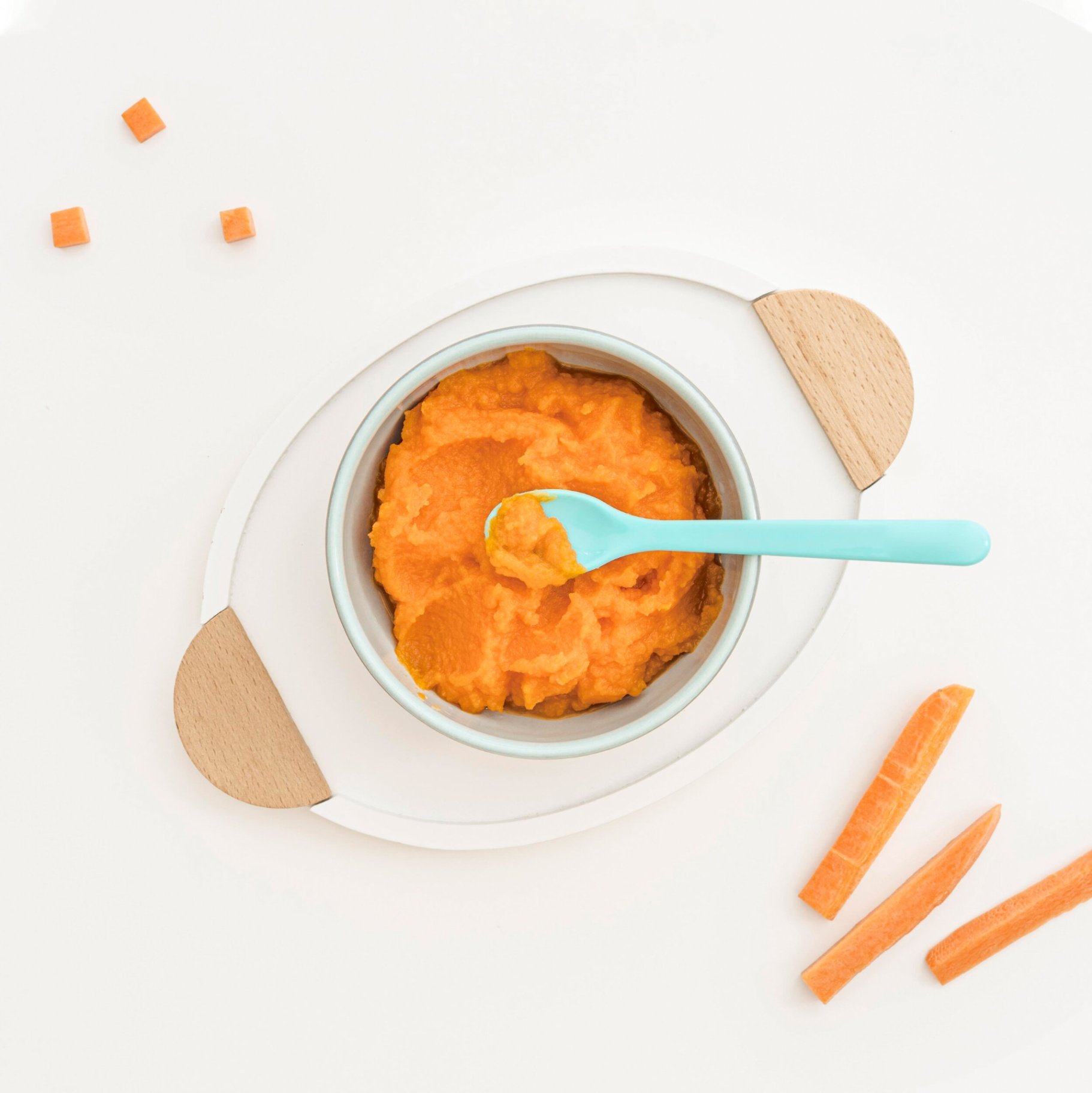 To prepare pureed sweet potatoes, start by preheating the oven to 200 C/400 F. Next, you'll need to pierce the sweet potatoes with a fork and place them on a baking tray. Bake for 45 minutes or until they are tender and their skin has wrinkled.
Once the sweet potatoes have cooled, cut them in half and peel off the skin. Next, pop them into a mixer or food processor and puree until smooth. If the consistency is too thick for your baby, you can add a spoonful of breast milk (or other milk) to make it thinner.
Whipped Peanut Butter
There are lots of reasons to love peanut butter—it's packed with protein, fiber, and healthy fats for a baby's brain development. The best part? You can easily whip up your own baby-safe version at home.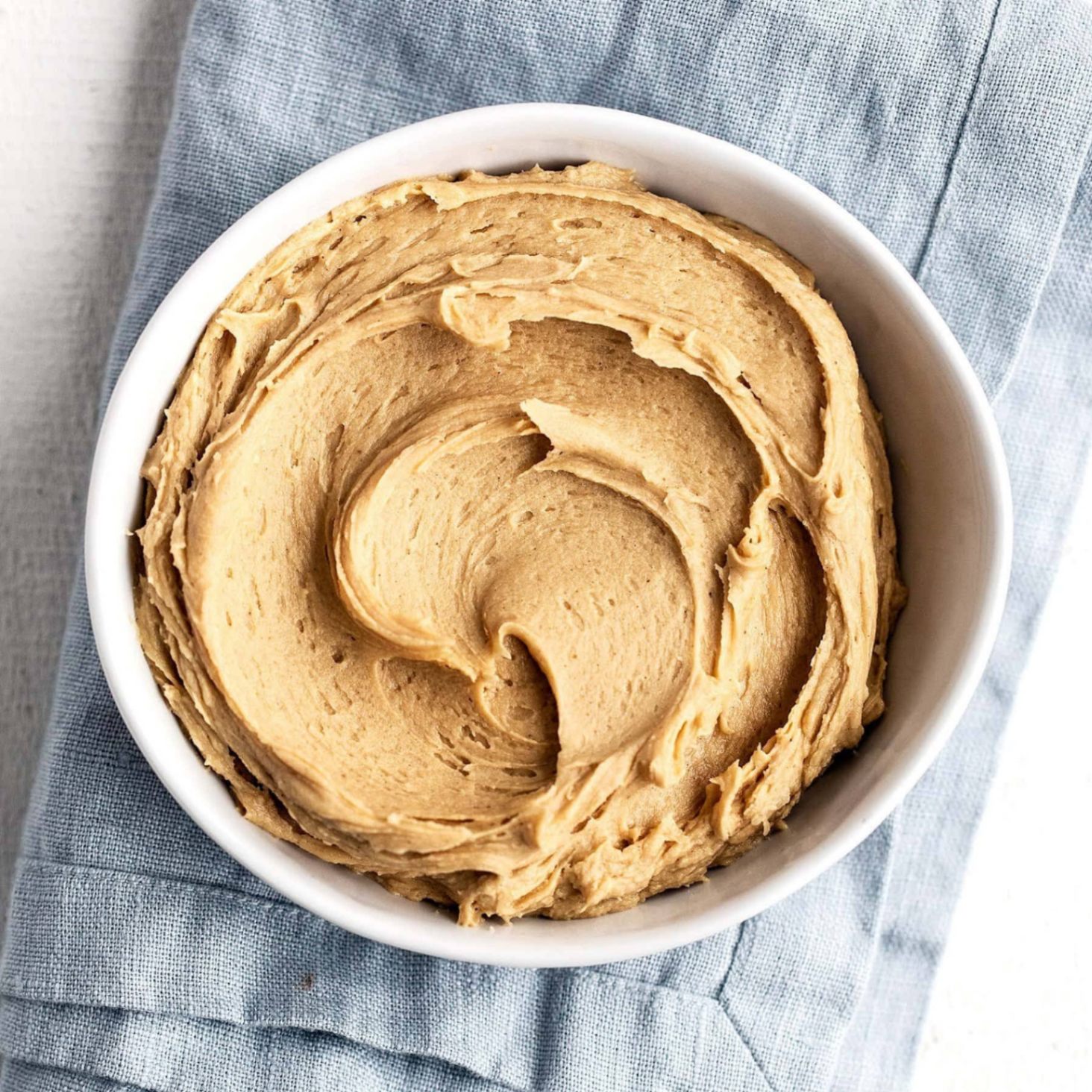 You can make this whipped peanut butter with just two ingredients and a few minutes. All you need is unsweetened creamy peanut butter and water. Add two tablespoons of peanut butter to a bowl with a couple of tablespoons of water and whip until it forms a whipped consistency like yogurt.
You instantly have yummy and healthy everyday food for your newborn! Store in an airtight container in the refrigerator for up to 5 days. A dollop of this protein-packed treat contains vitamin D, calcium, zinc, magnesium, and iron, not to mention the powerhouse of omega 6 fatty acids which are essential for normal growth and development.
Squash and Pear Puree
Butternut squash and pear are not only delicious together but also make savory stage-two food for your little one. This baby recipe is low in sugar, packed full of vitamin A and the ingredients can be blended to create the perfect texture. Even better, it can also be frozen in batches, so you can pull out whatever you need to prepare your little one's meal on any given day.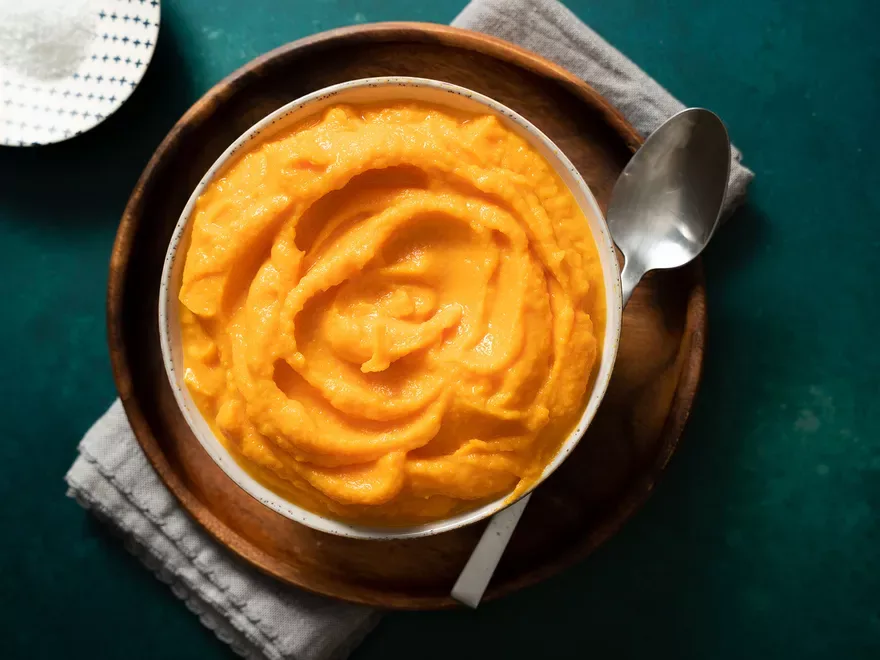 Use a vegetable peeler to remove the skin of the butternut squash. Next, chop both ends off, remove the seeds, and chop the squash into bite-size pieces. Boil or steam the squash for about 10-12 minutes.
Peel and core the pear, then chop it up. Add that to the steamer with the squash and let it cook for five more minutes, or until the squash is nice and tender. Finally, run it all through a blender, and you have got an amazing puree!
Spinach and White Yams
This ultimate recipe combines spinach and yams—a great source of calcium and iron and vitamins A and C. The sweetness of yams creates a pleasant introduction to greens. And while your baby will love the mild flavor and smooth texture of this stage one recipe, you will appreciate that it's made with no artificial flavors, no added salt or sugar.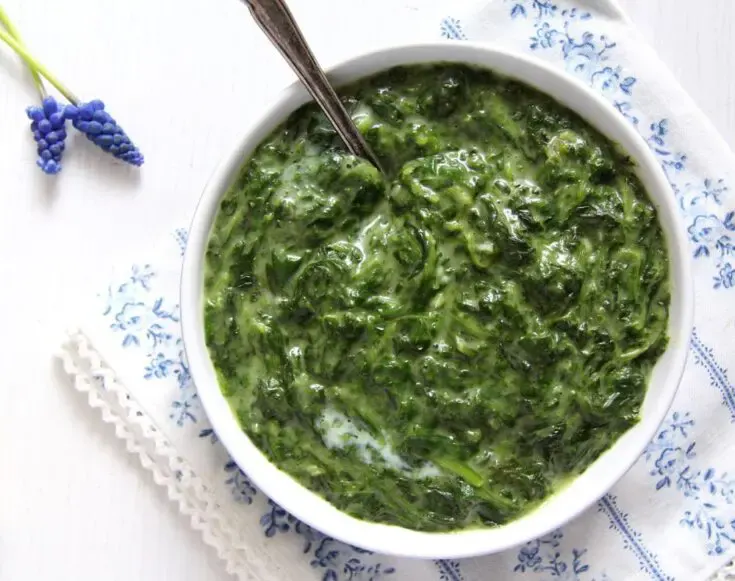 This recipe calls for a half-pound of fresh spinach, steamed and washed, and a half-pound of yam, peeled and chopped. Now, place the yams in a large pot and add enough water or stock to cover them by about half an inch.
Bring to a boil, gradually reduce the heat and simmer for about 10 minutes. Stir in the spinach and cook until both the ingredients are tender when pierced with a fork. After the mixture has cooled, purée it in a food processor or blender.
Quinoa Banana Mash
Get your little one off to a great start by trying this exciting new texture. Blending quinoa with banana may be an odd pairing in our adult diets, but babies love bananas, and combining it with quinoa adds a ton of protein into every bite.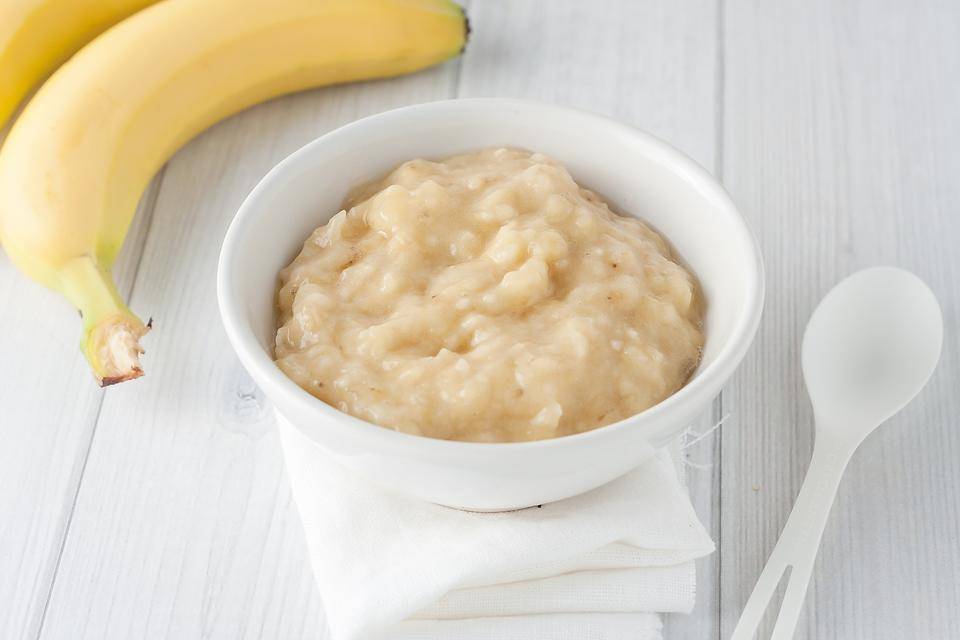 Even better, Quinoa has a subtle flavor and sticks easily to the baby's fingers, which helps hand-eye coordination by allowing babies to feed themselves. For this recipe, you will need half a ripe banana with approximately three tablespoons of cooked quinoa and one tablespoon of whole milk yogurt.
Now, gently mash the banana in a bowl using a potato masher or fork until smooth. Alternatively, you can also pulverize it in your blender or food processor. Mix in the remaining ingredients and stir until it forms a fine paste. Serve it straight from a spoon!
Apple and Prune Puree
A big boost of fiber plus an extra helping of antioxidants is what the baby gets from prunes (which are simply dried plums). Apples packed with vitamin C are the perfect complement to prunes. So go ahead, serve up this easy-to-digest little number that helps your little one's digestive system and stops constipation in its tracks.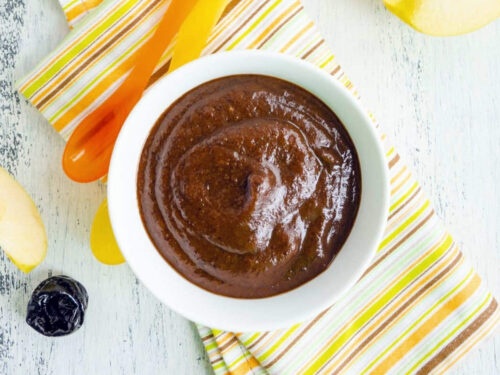 To get started, wash the apples, cut them in half, and remove the seeds. Next, remove pits from prunes and add both these ingredients to a large pot.
Mix 1 ½ cups of water and bring to a boil on a high flame. Cook for about 8 minutes or until tender while stirring occasionally. Shift to mixer or food processor and puree until smooth.
Homemade Cherry & Greek Yogurt Puree
Introduce your baby to their first yogurt with this simple but flavourful Homemade Cherry & Greek Yogurt Puree. This starter recipe is soft and fruity, the perfect texture for tiny taste buds. Plus, it's made from natural ingredients, without any added sugar or preservatives.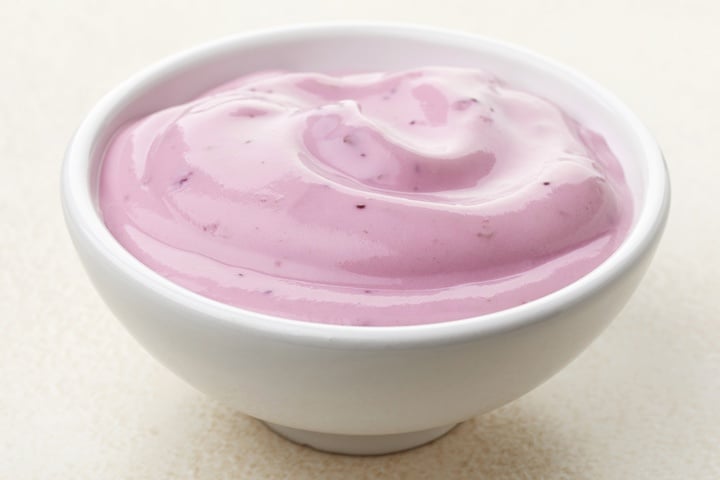 Add 2 cups cherries in a saucepan with 3 tbsp of water and cook on medium-low flame for about 10 minutes or until tender.
Now, transfer the cherries to a mixer or food processor and puree until it forms a smooth paste. To make baby servings, spoon 2 tbsp of the puree and 2 tbsp of full-fat yogurt into a baby-safe bowl.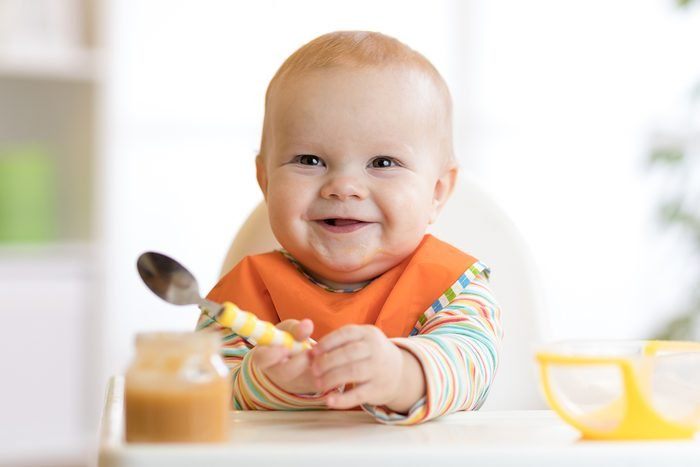 Conclusion
The foods you shower your precious baby with are solely responsible for their health! The aforementioned recipes are specially developed to please your child's taste buds and provide them with a strong nutritional base for their health.
These are even great recipes for picky eaters! They're easy to make, and they allow your baby to reap all the benefits of healthy fruits and veggies without needing an expensive, store-bought blended mush.